Dogs in the Kitchen
By Paige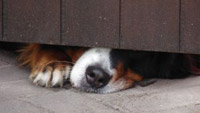 We know mother used to tell you to keep the dog out of the kitchen, and for good reason…dogs are just dirty. Lucky for us there are a lot of clever dog lovers out there who turn their love of the animal into something useful.
Here is a list of fun doggie theme items that can be used in the kitchen, from muffin pans to knives to cookie jars there is something to suit your countertops. For each product there is a brief description and a link to where it can be found on Amazon.

We say, bring the dog back into your kitchen – without the mess.
*All links open in a new window
Love the Dogs?
If you haven't already be sure to check out some fun & colorful dog toys for kids of all ages & stay tuned for more unique and useful doggy theme products.
One Response to "Dogs in the Kitchen"