Feeding Your Dog A Real Food Diet: Its Bark Is Worse Than Its Bite
By Paige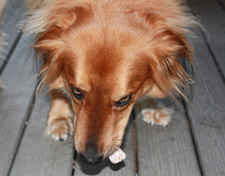 I have been dogged for years by a desire to feed my animals the best nutrition possible. I needed it to be simple with my busy lifestyle, especially after children came along.
All along I have known that the ideal diet was far from the regular dog and cat "food" sitting dried up in bags, or sealed into airtight cans, stacked on grocery store shelves. My need was fueled by reading multiple books that examined the appalling nature of mainstream pet food and its ingredients.
Even so, going from "natural" to "super premium" to whipping up entrees in my own kitchen has taken me years of trial and error. It has finally, though, brought me to the table of real, raw food for my pets.

It was just last Fall when I turned this new leaf, chopping up the label of "dog food" and simply feeding "food" to Fergus, my 75 pound-two-year old pound pup. I tried it on him first, before the cat, because he had multiple allergies and despised kibble of any form or flavor. And the cat is, well, expectedly finicky (but did almost immediately come to love chunks of raw chicken).
I would like to say that I was bright enough to come up with this on my own, but alas, greater minds have been promoting this for far longer. I was finally ready, after my years of experimenting and reading, to listen to a holistic veterinarian when the B.A.R.F. diet was put on the table of discussion.
This is the somewhat controversial "Biologically Appropriate Raw Food" meal plan for pets. I had heard of it years before, but I believed the criticisms at the time about all the inherent dangers of feeding bones to pets.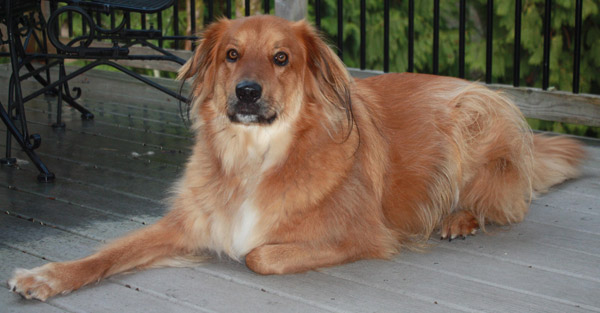 I was morbidly afraid, like a lot of pet owners, that my dog would choke on the bones. I vividly remembered finding one of my dogs as a child with a chicken bone stuck in her throat.
This time, it was my dog who made me a believer. He crunches down chicken legs with ecstatic ease. (The key here is raw; it's the cooked bones that cause the issues.) However, I did not venture into this part of the meal plan without trepidation, and I still usually watch him eat his meals – but that's mostly to see the carnivorous gleam in his eye as he chews down his dinner with glee.
Cutting My Costs And Adding Life
An unexpected benefit to feeding plain old food to my pets (instead of specialty pet food) is the money that I am saving. Anything that saves me money and can add health and life to my pets is a winning recipe in my book.
I used to spend almost $60/month on "super premium" kibble for my large dog with food allergies; I have cut that cost in half even with feeding organic vegetables and free-range chicken for the majority of the meals.
I also don't waste any money on commercial chews anymore because I throw him raw knuckle bones from the butcher instead. And who knows the money that I am saving on future veterinary bills for my pets.
The Benefits Can Be Shared By Both Pet And Owner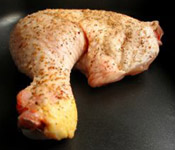 Here are a few of the benefits of a simple, real food diet for my pets and I:
My dog hears the call of the wild at every meal and thoroughly enjoys eating now. On top of that, he is allergy-free with clear skin, shiny coat and eyes, and he practically glows with health.
I dragged my dust-laden juicer out of the back of a cupboard and now make healthy juice again for myself. I take some of the juice and veggie/fruit pulp to add to his meat at each meal, simply freezing portions in advance.
If I run out of that, I toss a banana or grated apple and carrot into his bowl. Or canned, pureed sweet potato or pumpkin. It's that simple.
It doesn't have to be all or nothing, and if I get worried about his getting appropriate vitamins and minerals I will add a vitamin/mineral supplement (at this time I am not worried, nor am I supplementing).
I can still have "convenience" food. If I am going on a trip and bringing the dog, I don't want to pack raw chicken legs for the road. So, I have some cans of dog food that are just duck, chicken, or turkey meat (I get them from Wysong), and I will bring my can opener. My cat at home has a back-up supply of grain-free dry cat food. I figure a few days of processed food won't shorten their life or increase susceptibility for disease – but a lifetime of it almost surely will.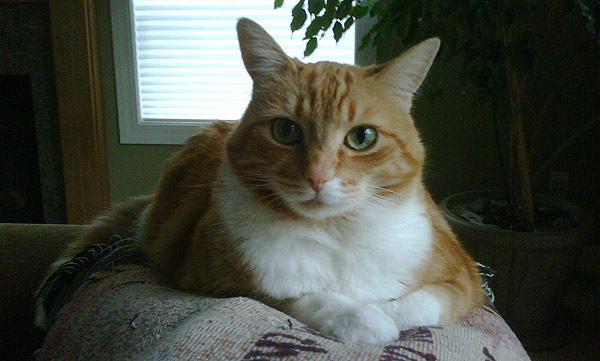 The Hardest Part Is An Insatiable Cat
And speaking of that cat, he is a nighttime nibbler, and I do love my sleep. Thus, to ward off rude awakenings at 4 AM by a whining feline looking for his short-order cook, I leave some of that grain-free dry food in his dish at night.
My dog knows his place, and my cat, like any proper feline, knows mine.
Looking To Mother Nature
That place for me, I have found, is not in the natural pet store going through the labels looking for the best, healthiest, allergen-free ingredients, nor is it in the kitchen cooking up pots of pet food to freeze for later use. For me, its peeling a banana and putting it in the dish with a chicken leg and watching a carnivore that I adore eat the real food in his bowl. It is so wonderfully easy and satisfying.
It's a shame that I was so worried all those years about playing around with kibble and cooking, worried that I wouldn't do it right, wouldn't get the vitamin and minerals in the right ratios, etc. For how could I do better than the companies who specialized in this venture and had done all the science?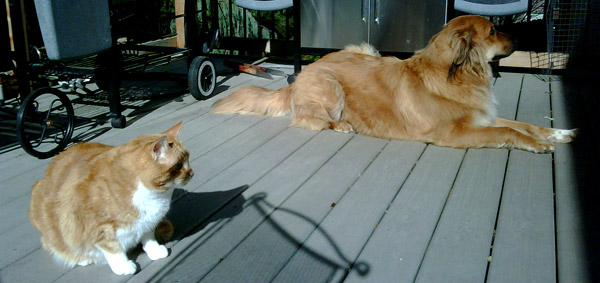 Alas, Mother Nature is just a better dietician and chef than man. After a few major pet food recalls and dead dogs across the United States, I don't worry so much that I am not doing it right.
Recommended Books
Following is just a short list of informative books about pet food, feeding your pet, and the B.A.R.F. diet. Most if not all of these should be available at your local library. You may be venturing into this as new territory, confused or overwhelmed, but just start slowly. Read, get the facts, and see what works for you and your animal friends. It took me years to go from mass marketed dry kibble to B.A.R.F., but I now have one of the healthiest dogs I have ever seen (the cat still needs to shed some weight and fully transition onto the diet). I should include a warning here to check with your vet about any dietary changes for your pet; however, remember that most veterinarians actually sell the packaged pet foods right out of their offices so they are not necessarily going to be very objective.
About Eleanor
Eleanor Van Natta is a wife, a mother of two little girls, and a caretaker to one dog, one cat, and one horse. She has a Zoology degree from the University of CA, Davis, and prior to becoming a stay at home mom she had a career in environmental and pharmaceutical sales. Eleanor is currently writing a book on horses and healing, you can find more of her writing on her websites: Eleanor Van Natta & Sage By Nature.
4 Responses to "Feeding Your Dog A Real Food Diet: Its Bark Is Worse Than Its Bite"