A Huge List of Dog Movies
By Paige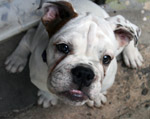 Need hours and hours of dog therapy? You came to the right place, there are over 60 dog movies on this list, something for everyone.
For each one we've provided a link to where they can be purchased on Amazon & itunes, and where available links to their IMDB page and the trailer (or a clip of the film).
This list is so long, the biggest problem you'll have is deciding which one you want to watch first, enjoy!
So Many Dogs
We'll keep adding more as we come across them, so keep checking back. If your favorite dog movie isn't on the list, leave us a comment so we can get it up there.
857 Responses to "A Huge List of Dog Movies"