Dog Toys for Kids
By Paige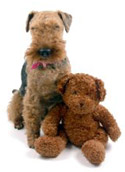 Those of you who are dog crazy (especially those who have kids) know that you can never get enough fun canine-related stuff.
Here is a list of some of the more interesting doggie toys we could find for everyone from baby to grade school age kids. For each product there is a brief description and a link to where it can be found on Amazon.
Because you can only house so many stuffed doggies (unless they are the innovative type, that is).

*All links open in a new window
More Dog on The Way
Part of our job is window shopping (and that's not half bad) so we can find you the most interesting and unique dog products we can find. Stay tuned because we have all kinds of cool stuff to share.