Dogs for Baby
By Paige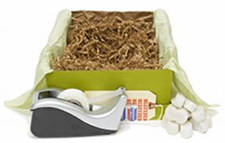 We aren't going to mention the holidays, but they are on the way no matter what we say out loud. Preparing ahead of time is the best (& cheapest) way to go so we will slyly throw ideas out there from time to time to help the process along.
People of All Ages
It doesn't take a grown up mind to appreciate our canine friends and dog themes are popular when it comes to baby toys (& even some functional items). We've put together a list of baby gift ideas with a doggy theme – they're not just for baby, mom's to be may appreciate them as well. For each item we've provided a brief description & a link to where they can be purchase on Amazon.

Oh, You Better Not Cry…
We'll keep slipping handy doggy gift ideas & we hope you'll appreciate the hints there is tons of dog theme stuff out there! Stay tuned for more to come, but until then be sure to check out some fun dog toys for kids.