Dogs in the Office
By Paige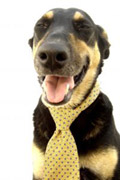 Most of us can't bring our dog to work, so having canine reminders at the office can help us navigate the day until they are by our side again.
Recently we've been sharing fun and fabulous dog theme accessories for different parts of your home & life. If you've missed them, be sure to check out dogs in the kitchen & the bathroom.
Here is a list of fun (& functional) ways to bring a little dog to your office, each product includes a link to where it can be found on Amazon.
Luckily there are all kinds of fun doggie treats you can keep on your desk – without having to worry about any shedding.
More Dog Coming Up
We have collected plenty more dog products to brighten your day so stay tuned for more to come. If you haven't already be sure to take a look at dogs in the kitchen & dogs in the bathroom.