Dogs in the Bathroom
By Paige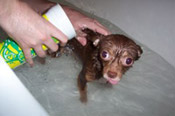 Some dog lovers enjoy making their homes an homage to their favorite animal, others like a doggie accent here and there. We say dog it up!
A few weeks ago we posted about dogs in the kitchen to share some useful canine themed kitchen utensils & accessories. Today we move to another tiled room in the house, the bathroom.
Here are some doggies you won't mind having in the bath, in fact they may actually leave you cleaner.
More Dogs to Come
Keep checking back because we have more fun dog products to share. Until then be sure to visit dogs in the kitchen.