Basic Dog Anatomy
By Paige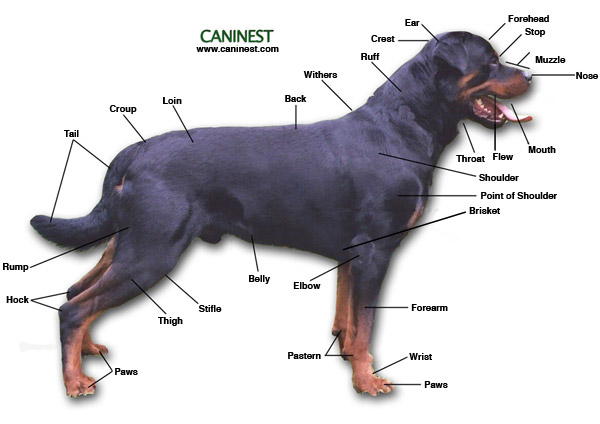 *Click image for a larger view.
The Basics Of Dog Anatomy
Learn a little about your animal.
Forehead
The area just above the eyes and before the stop.
Stop
The indentation in a dog's forehead just above eye level & varies in depth by breed.

Muzzle
The muzzle is the area from just past the stop to the nose & varies in length based on breed.
Nose
On the front of the face, the nose in most breeds is black (sometimes multi-colored or flesh colored) and usually kept moist.
Mouth
Located below the nose, the mouth comes in a variety of shapes & sizes.
Flew
The upper lips, especially if they are long & thick (think St. Bernard).
Throat
Located just past the bottom jaw, where the neck meets the head.
Shoulder
The muscular upper section of the upper arm.
Point of Shoulder
The front of the joint where the upper arm and shoulderblade meet.
Brisket
The front part of the body between the forelegs & below the chest.
Forearm
The top area of the upper leg.
Wrist
Or the carpus connects the lower leg to the paw.
Paws
Includes the toes, feet & pads at the end of all four legs of the dog.
Pastern
The area of the foreleg between the wrist and the foot.
Elbow
The joint that connects the upper arm and the forearm.
Belly
Under section of the abdomen.
Stifle
Similar to our knee, the stifle is the joint that connects the lower thigh to the upper thigh.
Thigh
Area of the hindquarters between the hip and the stifle.
Hock
The joint that connects the lower thigh to the lower leg.
Rump
Back of the upper thigh.
Tail
Come in a variety of shapes, sizes and positions.
Croup
Area of the back from the root of the tail to the front of the pelvis.
Loin
Area on both sides of the vertebrae between the last few ribs and the hindquarters.
Back
The area from the withers to the root of the tail.
Withers
The top of the shoulder blades and the highest point of the body, located just behind the neck.
Ruff
Thick, dense hair around the top of the neck.
Crest
The upper, arched area of the neck (some breeds grow thicker hair on their ruff).
Ear
Usually located on or near the top of the head, ears vary in size, placement & shape based on breed.
Might As Well Learn More
Have you met all of the members of the canidae family? If not, why not go introduce yourself to the true dogs & foxes & basal of the world.
3 Responses to "Basic Dog Anatomy"