Ancient Dog Breeds
By Paige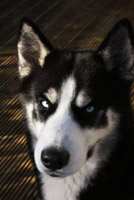 Domestic dog breeds are descendants of the mighty Grey Wolf that we've domesticated & started breeding for specific characteristics.
There are a myriad of dog breeds & types in the modern world, however there are a few of the ancients still around. In 2004 14 breeds were identified through genetic research as having bloodlines closest to the grey wolf. These animals are thought to come from the earliest domesticated members of the canine family.
In the coming weeks we'll take a closer look at each one of these ancient breeds with pictures & interesting facts.
Grandpas of the Dog World
We'll update this post with links to each breed as we get a closer look, so keep checking back.
Alaskan Malamute
Basenji
Chow Chow
Lhasa Apso
Pekingese
Saluki
Samoyed
Shar Pei
Shiba Inu
Shih Tzu
Siberian Husky
Tibetan Terrier
The Great-Grandpas
Of the 14 above, 7 have been recognized as having the oldest genetic patterns.
Akita Inu
Alaskan Malamute
Basenji
Chow Chow
Shar Pei
Shiba Inu
Siberian Husky
Stay Connected
In the coming weeks we'll learn more about the magnificent breeds & we'll share everything from interesting facts to great images.
19 Responses to "Ancient Dog Breeds"