Organic Dog Treats
By Paige
The label readers of the world know that even our food is filled with preservatives, by-products and chemicals…imagine what they put in our dog's food.
You Get What You Pay For
Responsible dog owners always read labels and know what they are putting into their animal (read: 99 cent store dog food is a no-no).
Support the Good Ones
Here is a list of places who care about what goes into their treats because they care about what goes into their own animals.
The more pure, sustainable and organic we purchase, the more we support those who make responsible decisions when it comes to food
You love them, so it's important to feed them the best.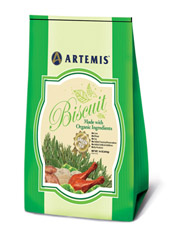 Artemis Company
This company offers a whole range of natural dog foods made with certified organic ingrediants.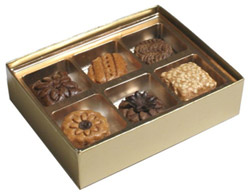 Canine Confections
Their products are free of soy, meat, wheat, fillers, artificial colors, chemical preservatives, by-products and added sugar.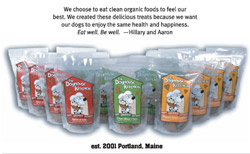 Dog House Kitchen
Their treats do not contain preservatives, GMO, wheat, salt, refined sugar, corn or soy.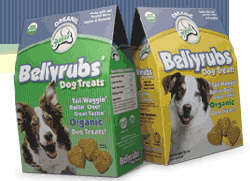 Good Dog Express
Bellyrubs are vegetarian and made with organic ingredients that meet the USDA's organic requirements.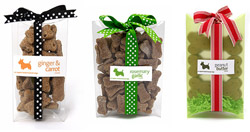 *Green Dog Company
Made with organic human-grade ingredients, including those with proven holistic properties such as garlic, kelp, celery seed and rosemary.
There is also a selection of products of which 10% of the purchase price goes to charity.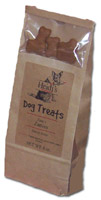 Heidi's Bakery
Offers treats for horses and cats too. Their products are made from certified organic and local ingredients.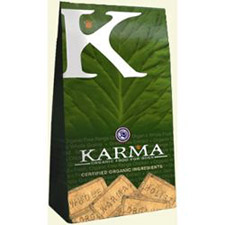 Karma Organic
Also offer a whole range of dog food. The only reason their treats aren't 100% organic is because some of the vitamins or minerals they use are not available in organic form.
They also come in recyclable bags.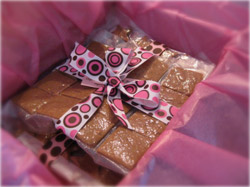 Monkey Pups
Not only do they use certified organic and local ingredients, but they also use eco-friendly products to clean their bakery to keep as many chemicals out of their products as possible. The meat in their products is organic, free-range, grass fed and free of hormones and pesticides.
They are also working towards implementing solar power and rain harvesting as part of their process.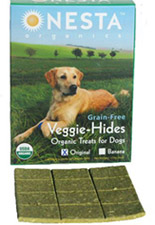 Onesta Organics
Their veggie-hides are 100% human grade, GMO-free and unrefined all processed using low temperatures to preserve nutrients.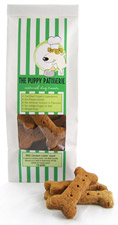 Puppy Patisserie
Buiscits and treats are hand-made with 100% human-grade ingredients. They are also free of preservatives, colors, artificial flavors, wheat, eggs and added salt or sugar.
Their meat comes from free-range and humanely raised establishments and veggies come from sustainable sources.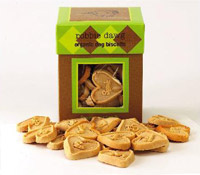 Robbie Dawg
Robbie only uses ingredients grown and processed in the US and their treats are free of wheat, corn, soy, artificial ingredients, wheat gluten, rice proteins, added salt, sugar or preservatives.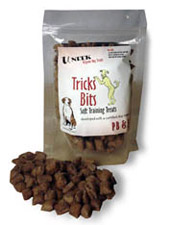 Uneek Dogs
Uneek wants to make every aspect of their dog treats as sustainable, re-usable and recyclable as possible and they only work with suppliers who share this philosophy.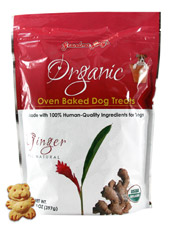 Uptown Critters
These critters offer food, shampoos and toys also and only use human-grade organic ingredients.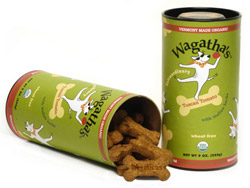 Wagtha's
Their organic ingredients are grown in North America and monitored for their quality, the olive oil they use is imported from Italy or Spain. All of their products are 100% USDA certified organic, certified kosher and they bake them by hand.
Have Another Source?
I'd love to add them here, if you have a favorite organic dog snack or if you make one, let me know so I can add it.