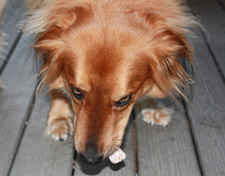 I have been dogged for years by a desire to feed my animals the best nutrition possible. I needed it to be simple with my busy lifestyle, especially after children came along.
All along I have known that the ideal diet was far from the regular dog and cat "food" sitting dried up in bags, or sealed into airtight cans, stacked on grocery store shelves. My need was fueled by reading multiple books that examined the appalling nature of mainstream pet food and its ingredients.
Even so, going from "natural" to "super premium" to whipping up entrees in my own kitchen has taken me years of trial and error. It has finally, though, brought me to the table of real, raw food for my pets.