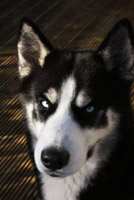 Domestic dog breeds are descendants of the mighty Grey Wolf that we've domesticated & started breeding for specific characteristics.
There are a myriad of dog breeds & types in the modern world, however there are a few of the ancients still around. In 2004 14 breeds were identified through genetic research as having bloodlines closest to the grey wolf. These animals are thought to come from the earliest domesticated members of the canine family.
In the coming weeks we'll take a closer look at each one of these ancient breeds with pictures & interesting facts.